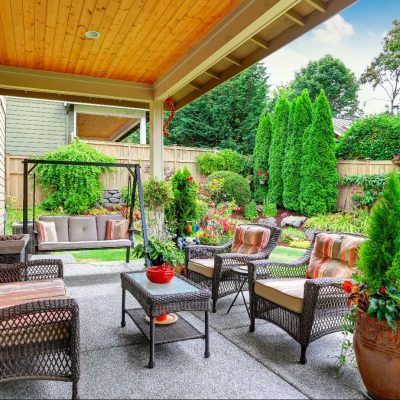 Want to keep some preventable maintenance from haunting you during a home inspection?  If you purchased a home in the last year, then you probably remember the inspection process and whether or not the home you bought had a slew of issues.  Could any of those have been prevented by regular maintenance?  I would suspect so and this is why I am encouraging good care of your home.  It's your biggest asset after all!
SPRING:
√ Deep cleaning – including wiping down baseboards & cleaning windows.
√ Check smoke detectors/carbon monoxide detectors & replace batteries
√ Service and clean your A/C system
√ Clean your disposal – put 1/2 cup baking soda down the drain followed by 1 cup of white vinegar. Plug drain and wait several minutes. Then flush with hot water.
√ Add window screens if you took them out over the winter.
√ If you have landscaping beds and want to prevent weed germination, this is the time to sprinkle on some Preen or other weed control.
SUMMER:
√ Carefully power wash siding, patios, walkways, and even driveways to remove build-up.
√ Clean/repair decks. Waterproof and/or re-stain or paint if needed.
√ Clean out dryer vent and any other exhaust vents exiting your home.
√ Clean aerators on faucets and shower heads. Protect sink aerator by covering with masking tape before using pliers to remove. Use a toothbrush carefully to clean without scratching.
√ Check all tile grout and caulking around sinks, tubs, etc… Repair as necessary.
FALL:
√ Clean gutters. I can not stress the importance of this enough!
√ While cleaning gutters, take a peek at the roof to see if there are any obvious issues.
√ Trim branches that overhang or are touching the roof/siding.
√ Have your furnace cleaned and serviced.
√ Winterize exterior faucets. Unhook your hoses before the first frost.
√ Have chimney cleaned.
√ Test sump pump. Make sure it's plugged in and all looks good.
√ Service and clean furnace. Ask your HVAC professional to also take a look at your water heater, checking for any issues.
WINTER:
√ Remove window screens to store for the winter. Have any damaged screens repaired.
√ Vacuum refrigerator coils – it will run more efficiently!
√ Deep clean your basement. Look for signs of mold and water.
√ Check your crawlspace for water and mold. Easier said than done, so hire a foundation company or home inspector to inspect for you.
√ Check toilets to see if they are loose at the floor and tighten.
√ Reverse the direction of your ceiling fans to circulate the warm air – energy tip!
* Don't forget to check your furnace filter and replace when necessary.