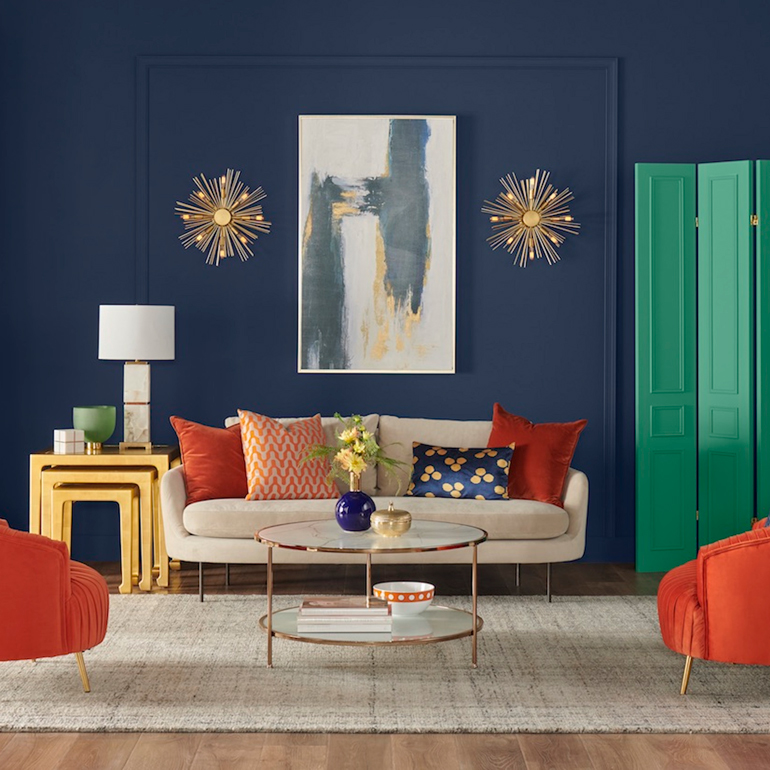 While we are still just entering the fourth quarter of 2019, the Sherwin Williams color of the year for 2020 has already been announced.  Drum roll, please…the color of the year for 2020 is Naval SW 6244. Otherwise known as navy through my untrained eye.  They promise it is a richer navy than we have ever seen before.  I do think it's time to introduce some darker colors into home interiors that are awash in white and gray. Pair Naval with all the gold tones present in current home finishes and it will fit right in.
What about other paint manufacturer's colors of the year?
Behr's color of the year is Back to Nature S340-4. It's very earthy, living up to it's name, and is a green hue.
Benjamin Moore will be announcing their color of the year at the end of this week. Update:  Benjamin Moore color of the year is First Light 2102-70.
If you are thinking about selling your home and need to paint before listing, maybe because tiny humans or pets also live in your home, what colors should you choose? It's common for sellers to choose a neutral color assuming that is what will be most appealing or least offensive to potential buyers. While there is certainly truth in that, if you are painting solely to get rid of "color" then you might rethink your plan. Your home will photograph great with some color on the walls if, and I stress if, your furnishings look good in that space and really go well with the wall color. If you have primary colors in deep hues throughout, then yes you are due for a paint update. If you have sponge paint on your walls, then you will need to repaint or knock down the walls. I can only think of two possible options there.
So, if you have muted and/or maybe a few bright-ish colors that are tasteful then you might get by with a magic eraser to wipe away any scuffs. Ultimately, a new coat of paint does give a home a fresh look and removes some signs of having been lived in. If your home is looking well lived-in then your only choice might be to repaint. If there is one color I tell you never to choose, it's bright white. There are a million white hues to choose from and bright, blinding white gets a big thumbs down.  My go-to white alternative is Creamy by Sherwin Williams. Happy painting!